Jewish Heritag and history Day Tour - Girona and Besalu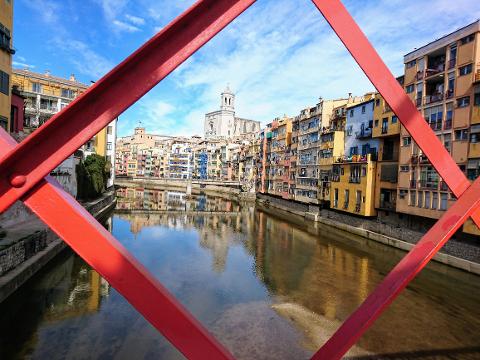 Duration : 9 Hours (approx.)
Location: Barcelona , Barcelona
Product code : JHGB
Our tailor-made Jewish tours will share the extraordinary history of the Jews in Spain who disappeared following the Pogrom of 1391. In the middle ages the Jewish life in Spain had its Golden Age, in which they worked and lived harmoniously with Muslims and Christians.
Jewish tours will take you back to those old days. you will be able to see how Jewish heritage became a fundamental and inseparable part of the story of the city.
Jewish tours of Spain with Kokopeli Experience day trips to Girona and Besalú – we'll take you to two very important destinations of Jewish history in Spain. Girona has one of the biggest Jewish quarters in the old town, and even the small and cozy Besalú was bustling with Jewish life. A Jewish bath and synagogue is the remaining heritage of those golden times.
We have Israeli and Jewish guides who speak fluently English and who know a lot of historical backgrounds. That's why we can share this amazing knowledge – with a special touch.

This day tour leads to 90 km to the north into the pleasant town of Girona. The living standard here is among the highest in Spain. Its 100.000 inhabitants live at the confluence of four rivers in cuturally and architectonically one of the most interesting towns in Catalonia.
Girona has known many upheavals and has come under the influence of many cultures over the two thousand years of its history, due to its strategic position. Romans, Arabs, Jews, the French – they all left their still highly visible traces. You will be guided through the old town with its high density of historical monuments of all different ages.
After visiting Girona we will go on to Besalú a picturesque medieval village just a half an hour´s ride away. Only 2000 people live there but it doesn`t lack of sights. Besalú is impressing with its architectonic harmony – an ancient bridge from the 14th century, the church and houses all made of the same stone.
In the background the Pyrenees and a stream surrounding the whole scenery give the visitor the feeling that time has simply stopped. With your guide you are discovering the many corners of the town before you get back to Barcelona in the evening.